April saw the team implementing lessons from the March conferences, reorganizing priorities, and announcing Archetype Avatars. With the first Alpha approaching, we've introduced NFT Metadata support, Solana Wallet integration, in-game voice chat, flight controls, among other features. The Blockchain team released the first staking distributions and OG Avatar Staking, and the Archetype Avatar minting page went live. We also held the second community contest on Zealy. Stay tuned for updates on the first Alpha release, Archetype Avatars, and upcoming community contests!
Studio Update:
The past month has been a lot of putting into action the lessons learned from the conferences from March. We took steps to rework the priorities for some major portions of the rollout leading to Alpha, front loaded the story, and added a second Alpha before the Beta release to allow for more testing. Anyone familiar with project organization knows that when priorities shift, there are ripples that need to be managed across multiple teams. To the credit of the disciplines in our studio and their directors, we have managed the shift with little disruption.
From the community standpoint, you would have seen the announcement of our Archetype Avatars, the release of both the Origins document and the Avatar Details article on Medium. These releases were made to support the release of this avatar line that is expected to have immediate utility in the very first Alpha, just weeks from the minting date. The minting website is also live, and has a place for a whitelist sign up that we're certain the community will find advantageous.
The avatar launch, beyond helping to explain the story of our world better, is also helpful from a technological standpoint. The work being done to construct avatars based on the metadata of the NFTs will carry forward to work on all the partner NFTs as well. This means that functionality gets to move closer in the schedule as well, and we are in contact with our partners to prepare them.
The first Alpha is getting very close. Our Art Lock has happened, and we've entered our Optimization phase before moving to the hardening phase just prior to release. It's a challenging time for the teams, and with every review, the release just gets more and more exciting to see. Expect a higher visibility in our social channels and with our marketing as that date gets closer and closer.
Development Overview
Over the last month, the dev team has been working diligently on creating the driving experience, seamlessly integrating proximity voice chat for better communication, and connecting the game with the NFT blockchain for a more immersive experience. Additionally, our audio team has been hard at work, contributing to the captivating in-game soundscape.
As we approach the first multiplayer Alpha, we're embarking on our final feature sprint, which will focus on significant UI improvements, refining and perfecting the driving experience, and providing support for the upcoming avatar sales by introducing dynamic in-game avatars that reflect their NFT counterparts. Following this final sprint, we will allocate a few weeks to bug fixing and polishing the game to ensure a smooth and enjoyable experience for our players. Stay tuned for more updates as we make progress towards the first multiplayer Alpha release!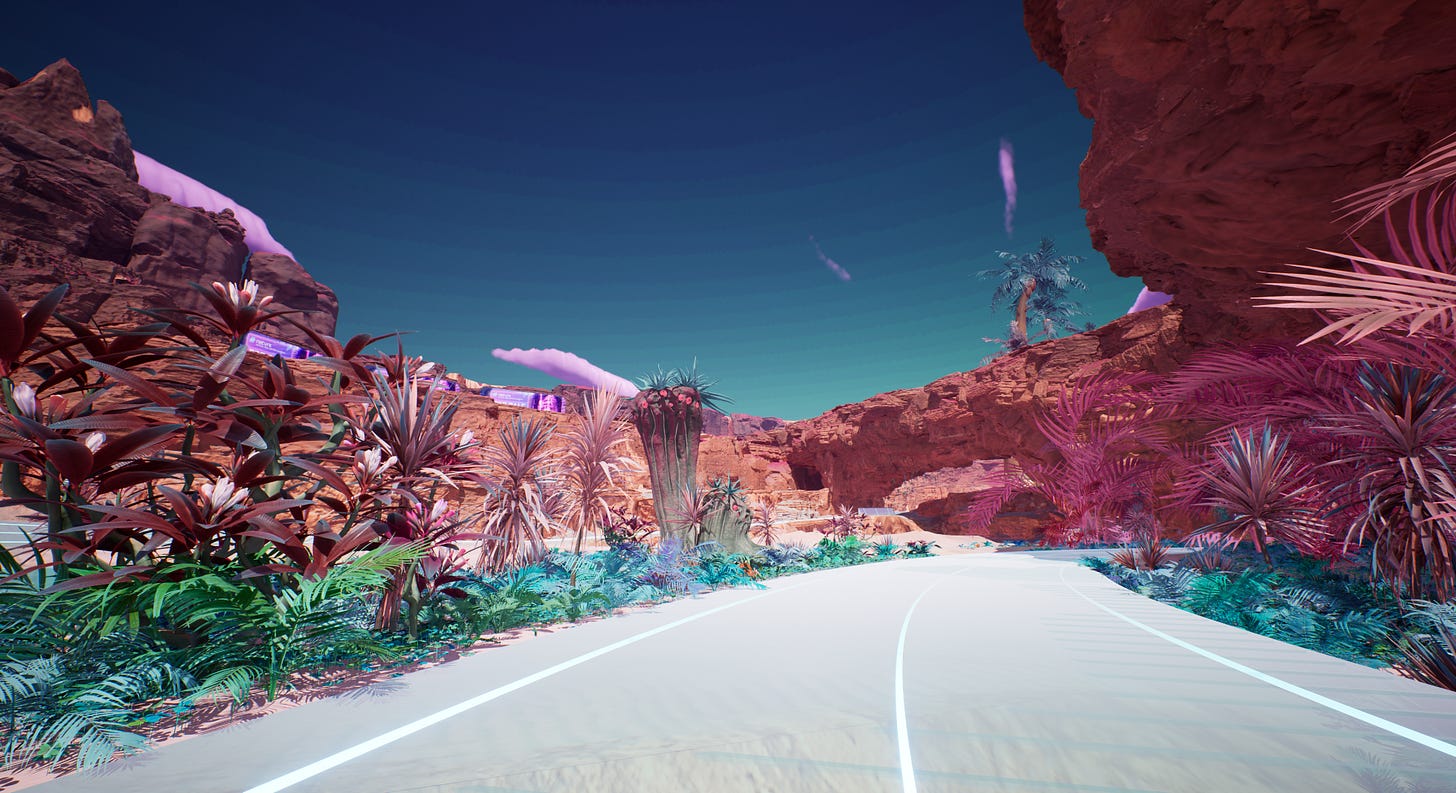 Unreal Team Update
NFT Metadata
More NFT functionality! Players can now view their owned partner NFTs in-game, with support for the metadata attributes and rarity. This is another huge accomplishment, as it is the base foundation of supporting all in-game NFT assets, being dynamically generated from their metadata attributes.
NFTpay
Integrated NFTpay as a way to purchase Netvrk NFTs with a debit/credit card. They are custodians of the NFTs, aiming to provide an easy onboarding for web2 users. As long as the user has the same email address for NFTpay and their Netvrk account, their supported NFTs in their NFTpay account are now usable in game – https://nftpay.xyz/
In-game Voice Chat
To enhance communication and collaboration, we've added voice chat functionality using our own self-hosted servers. This provides fast, low latency, peer-to-peer connections that make in-game communication smooth and enjoyable.
Full Map Experience & Optimization
Our focus on optimization means that you can now experience the entire map while driving. Although some areas are not yet accessible, the full landscape is present, making the world feel more immersive. The desert map, in particular, looks stunning and remains performant on up-to-date hardware.
Usernames Display
You'll now see usernames displayed both in the server room and while driving, so get ready to make a name for yourself in our growing metaverse!
Flight controls
While our attention has been mainly focused on carving through the desert grounds, we certainly haven't turned our back on the sky! One of the more recent updates to the feel of our driving experience is the introduction of vehicle mid-air controls. Whether you're sending your vehicle full throttle off a dune, ramp, or cavernous cliff, you'll be able to reorient the direction of your vehicle once airborne. No matter the jump, you'll always have the opportunity to land back on your feet(wheels)!
Driving Game Replication
We've implemented a custom driving game replication system since there's no native replication for vehicles in Unreal Engine 5 as of yet. Our team has been test-driving around the map, and the experience is nothing short of amazing! We've also hidden some surprises throughout the map for you to discover and enjoy.
Your Equipment Anywhere You Play
Allowing players to express themselves in our metaverse is at the top of our priorities. As we move forward towards incorporating new multiplayer modes, we believe player's should be able to show off their spoils. So an equipment page that will allow players to equip their favorite Mine Runner Pickaxe on to the back of their avatar has been added. Show your pickaxe collection to other's or simply add some flair to match the look of your favorite avatar. Future weapons and NFT based items will be displayed in this menu for player's to choose and outfit their avatars.
NFT Attribute Avatar generation
Development work has been ongoing to ensure that your avatars are unique and playable in any of our game modes. The newest addition to our avatar system is the generation of custom looks based on your favorite NFT's attributes! This update allows us to generate the exact look of your NFT avatar as a playable avatar. Of course Netvrk branded avatars will support this functionality out of the gate but we are working diligently to support all the unique looks that our partner's have created!
Blockchain Team Update
This past month included many releases from our team! We are happy to deliver on our commitments and look forward to carrying that momentum into May releases.
Reserve Staking Distributions
Rewards dashboard live at https://staking.netvrk.co/rewards! All wallets with staked Land or Transports can see the total Q1 reward as well as a breakdown of reward by NFT. The first airdrop of rewards was completed the first week of April to wallets eligible for rewards by playing Mine Runner. The second airdrop of rewards to eligible wallets by completing the questionnaire will be airdropped the first week of July.
OG Avatar Staking
Staking pool live at https://staking.netvrk.co/! Make sure to stake your OG Avatars by the end of the day on Sunday, May 7th to be eligible for free mints in the upcoming Archetype Avatar sale. You are eligible for 1 free mint for each OG Avatar staked and an additional mint for each full set staked (Adam, Eve, Quanto). If you stake 2 Adams, 1 Eve, and 1 Quanto, you will be eligible for 5 free mints in the first phase of minting and only need to pay gas fees.
This staking contract uses the same implementation as our other 3 staking contracts, which is a synthetic NFT approach. When you stake an NFT, you transfer the original NFT to the smart contract and a synthetic NFT is minted to the same wallet. For example, when you stake Avatar #318, you transfer original Avatar #318 to the smart contract and synthetic Avatar #318 is minted to your wallet. As a result of this, both unstaked and staked NFTs comply with ERC-721 standards. This allows us to standardize the ways we read ownership to provide the appropriate utility in our ecosystem. Not having to build custom solutions for each staking implementation provides a much more scalable solution for our shared future.
Archetype Avatars
Minting page live at https://store.netvrk.co/! This page will be continuously updated with more mint details, more art and pre-sale eligibility by the minting phase in the coming weeks.
A few key blockchain dates to put on your calendar:
Monday, May 8th at 2pm EDT: Take snapshots of all staking contracts to determine amounts for free mints, whitelist spots and bonus pack discounts.
Wednesday, May 10th: Update minting page with free mints, whitelist spots and bonus pack discounts by wallet.
Monday, May 15th to Monday May 22nd: Minting window!
Marketing/Social Media Update
In April, we held our second community contest, with Chau (TaiNiPoNi) emerging as the winner for the second time in a row. As a reward, Chau received $400 worth of NTVRK tokens and a free Avatar mint. In addition to the 1st place, we're also rewarding 19 more top-performing participants on the leaderboard and three lucky raffle winners, who each received a free mint. Congratulations to all our winners! A third contest is rumored to be just around the corner – so let's give Chau some healthy competition!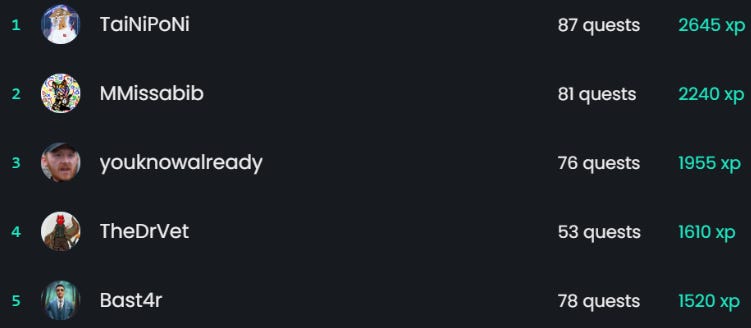 For the upcoming Avatar mint, we've been actively collaborating with influencers, content creators, our partners, and web2 marketing companies to make the mint a success. Our marketing team has been working diligently to establish these partnerships to help spread the word about our exciting Avatar mint event and attract more users to the Netvrk ecosystem.
As a special treat for those purchasing avatar mints, we have an exciting surprise lined up! We can't share all the details just yet, but let's just say that some fortunate participants might find themselves venturing into amazing new lands and adventures…