Two big aspects that you'll see running through the devlog this release. First, we have the Archetype Avatars launched and available in the community. Second, we are working on solidifying the Alpha test build to get that live. The month of May was purely focused on those two things. Let's get into it.
Studio Update
The big news from the studio this month has been the drive to the first Archetype Avatar NFT Line release, followed by the imminent release of our first Alpha. That build has been in the optimization and hardening phase for the past few weeks, and we expect that we will be publicly launching very soon after the release of this blog.
To be clear, this first Alpha has a limited live window which we will be sure to broadcast through our social media channels. The reason for this is to gather metrics and feedback from players and player data and turn that feedback into an action plan for subsequent releases. Keeping an early build live for too long risks having an unfinished project be the first thing new arrivals find, and disfavorably coloring how they view the project as a whole. But testing and collecting data is an important step in the process, and we are excited to have the community into our world to help with this.
In other news, we have had a number of substantial talks with large partners in the web3 space and beyond, partners who are expected to have a favorable impact on our long-term roadmap. Due to the nature of these conversations, we can only tease the community, not fully unveil until documents are signed. We are just too excited to stay entirely silent.
Finally, our plans for Alpha 2 and the beta launch of the project are continuing to be refined. A series of internal meetings were held where we took into account where we are, what advice we have received from well-placed advisors, and where we ultimately expect this industry to go, and fashioned a plan for future releases. That plan is in the process of being reviewed by the director's group, and we expect to release more information about the schedule via the social channels in the weeks to come.
Development Overview
The focus for the development team has been to get the Archetype Avatars ready for minting, and to get the Alpha/stress test prepared for our first launch. This meant putting the final touches on major features and UX experience and moving into a bug fighting phase. Anyone who has worked in game development will say that there is never enough time in this last phase, and our project is no different. But we do still expect that we will have a stable enough/bug free enough version of the stress test to go live for the community to experience. The final day is still under consideration, as there is still enough internal testing to keep us going this week. Keep an eye on our socials to know when that Alpha will go live. We'll give as much warning as we can.
Unreal Team Update
NFT Metadata
With the Archetype Avatar minting, we also employed the ability to read the metadata from those NFTs into our Alpha, so that the exact version of your Netvrk NFT is what you will be playing as in the release. This marks a milestone, because as far as we can find, we will be the first Unreal 5 Metaverse project that will accurately create your avatar using metadata in the virtual world.
In-game Voice Chat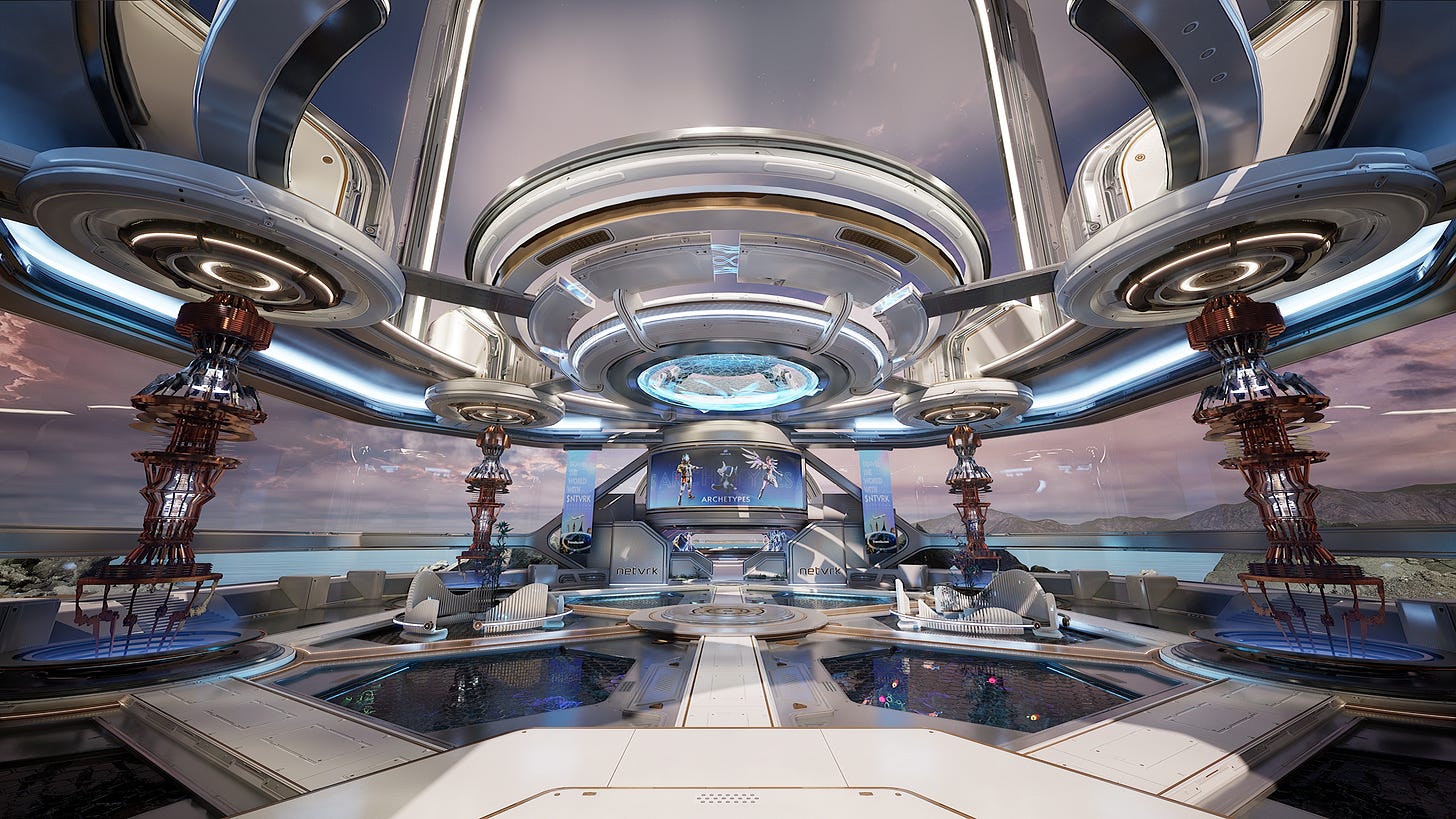 This functionality has been finalized and optimized and is going through the final checks before the release. Because talking with friends is core to the social nature of our world, the testing has been thorough and has proven how vital it is in an experience like Netvrk.
Driving Game Replication
Improvements have been made to the driving in the world to allow the vehicles to handle more realistically. Some of these improvements were to the vehicles' virtual model, and some to the terrain itself. Friction values, as an example, have been made variable depending on the surface a vehicle is on. The sand in the desert will allow for more sliding than the roads in the space. This is just one example of some tuning that happened in the past month.
NFT Collection Flex
As a form of flexing, we have added the function to be able to display to others in the social space the NFTs that you have in your wallet that is game connected. This means if you are holding an ultra rare partner NFT, you will be the envy of the people in the virtual world as you have the ability to put the image in their face.
Blockchain Team Update
Archetype Avatars
Last month our primary focus was preparing and executing the sale. Congratulations and thank you to everyone who minted! We can't wait to see you play with your one-of-a-kind avatars in the Alpha. Now that the smart contract is live, we'd like to share why we are so excited about this implementation and how it will be applied to future collections.
The main goals of this implementation are scalability for our expanding marketplace, flexibility to release multiple releases/items in the same smart contract, and ability to easily provide utility for different releases/items that are in the same smart contract. While there are several components in our implementation, here are two we are most excited about sharing.
The first is the ability to have multiple releases/items in the same smart contract. For the Archetype Avatar collection, we will introduce the fourteen archetypes through five releases. This first release included 3 archetypes. If you look at the token id of your NFT, the last 2 digits are the release number. This allows us to have multiple releases/items to be introduced at the same time as well as provide utility based on token id without having to read metadata. This can be used by partner brands, for example, a luxury fashion brand can have multiple items on sale at the same time!
The second is the ability to have multiple sales parameters/phases for each release/item. For the Archetype Avatar collection, the sale had 4 separate sales phases with different whitelist, prices, and max quantities per wallet. This included an initial phase with a whitelist and a max quantity for free mints per wallet to claim and a final phase with a set price and no whitelist. This allows us to customize parameters for different types of sales for different types of users. This can be used by partner brands, for example, a luxury fashion brand can have one item with one sale parameter allowing a 20% discount for loyal customers to reward their community while also having a sale parameter allowing a 10% discount for purchases in the metaverse to drive traffic on their land, all happening at the same time!
Marketing Update
With Apple's VR announcement, we are reflecting on our own plans for VR, as you would expect. We do have a commitment to VR compatibility in our future. We've already made significant progress in this area, and we're eager to accelerate development as VR technology gains wider adoption. With VR, our goal is to ensure our platform is compatible with a range of devices, including Apple's forthcoming product. We are excited to see Apple jump into the industry and look forward to testing out the system.
Community Update
The latest Zealy contest has concluded, with Chau once again dominating the leaderboard. Additionally, three lucky raffle winners will be rewarded with an Archetype Avatar each. The energy and participation from our community never ceases to amaze us – you are the heartbeat of Netvrk!
We want to express our sincere gratitude to everyone who devoted their time to our influencer outreach quests. Your efforts, ranging from correcting misinformed influencers to showcasing our innovative Creation Engine, have made a significant difference. Numerous influencers have taken notice and have started spreading the word about Netvrk. We trust you've seen the positive effects of your actions, and we encourage you to continue this engagement – quest or no quest. Your active participation strengthens our community and helps us push forward with our mission.